Merch
sale
High Fidelity Earplugs
We have invested a lot in the quality of sound at our shows, so we want you to be able to protect your ears and hear the music the way we and the artists intended! We have tried many brands and types of earplug, and in our opinion, Earasers are the best quality earplugs available at an affordable price.
75% of Men generally wear medium and 75% of ladies generally wear small.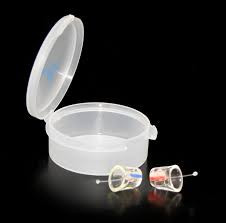 Additional Info
Earasers are useful for many different applications, but we have narrowed down your search to the most popular ones to date: Musicians, Concert Goers, Dentists & Hygienists, and for general Peace & Quiet. If you have been seeking a useful and economical earplug, that still allows you to understand conversations while wearing them, and without that muffled and stuffed-up underwater feeling… hear no further! There's a reason you are "hear"! Your current situation is just unbearable any longer. Protect your ears and don't sacrifice on the sound.