Soulstice Sound's inventory of Meyer Sound loudspeakers. We design the system configuration based on your event needs.
JM-1P: Redefining Point Source Systems

The JM-1P array-able loudspeaker combines Meyer Sound's famed clarity of sound and robust, self-powered performance with our latest breakthroughs in horn design, rigging and loudspeaker control to produce an extremely easy-to-use, highly versatile array-able loudspeaker system powerful enough to act as a main system, but flexible enough to serve in any number of supporting roles whether horizontal or vertical, flown or stacked. With the level of performance and flexibility, the JM-1P is a wise investment that has a place in every job and on every tour.
UPQ-2P: Ultra Series Narrow Coverage Loudspeaker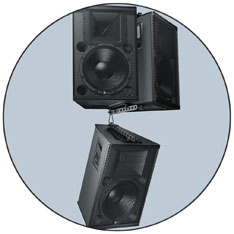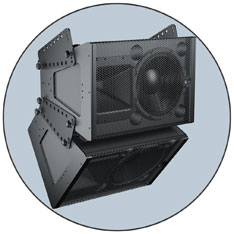 The UPQ-2P Ultra Series Loudspeaker's extended low-frequency headroom gives it a wide operating frequency range of 55 Hz to 18 kHz. With its easy-to-use and versatile QuickFly rigging, the UPQ-2P loudspeaker is equally suited to touring, rental and fixed installation applications.
A high power-to-size ratio and ease of use makes the UPQ-1P an outstanding performer in concerts and corporate AV applications, and ideal for venues such as theatres, houses of worship, ballrooms, and nightclubs. The UPQ-2P loudspeaker produces a peak output of 136 dB SPL with low distortion, as well as a focused beamwidth, in a compact, vented, trapezoid enclosure.
The UPQ-2P offers an extremely consistent polar response, and is distinguished by its constant-Q horn that provides 50-degree horizontal by 50-degree vertical coverage (-6 dB points) and a gentle coverage rolloff that extends uniformly out to its -10 dB points of 60 by 60 degrees. The UPQ-2P loudspeaker can be used as the main system in small to mid-sized venues or easily integrated with other Meyer Sound products.

MINA : Compact Curvilinear Array Loudspeaker

Just over a foot and a half long and weighing only 41.2 lbs yet capable of producing up to 128 dB SPL over its wide 100-degree horizontal coverage area, MINA will find a place in a variety of applications. Its small footprint makes it an ideal curvilinear array system for low-profile, high-fidelity sound reinforcement, as well as frontfill and under-balcony applications. Installations and theatre tours, where size is a concern, can pose tough challenges to attaining excellent coverage, but MINA rises to the challenge easily.
700-HP : UltraHigh-Power Subwoofer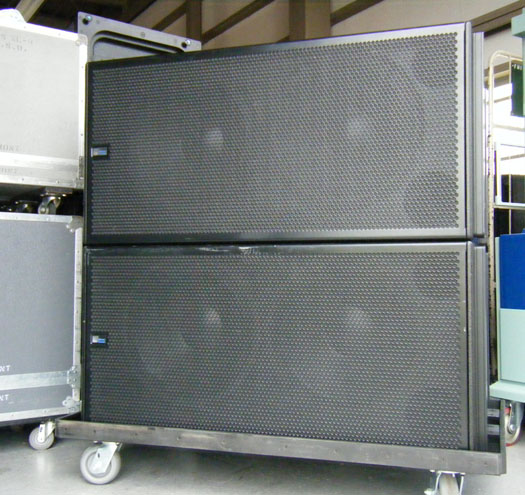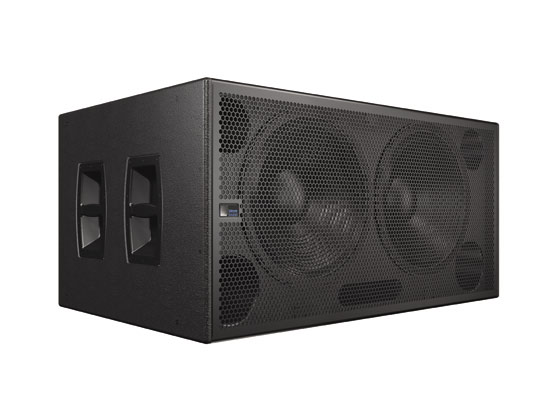 The Meyer Sound 700-HP ultrahigh-power subwoofer sets a new standard for the power-to-size equation. The 700-HP's power and bandwidth handle high continuous operating levels and extreme transient information with minimal distortion in its operating frequency range.
Meyer Sound's rigorous design approach results in the 700-HP's effortless reproduction of low frequency transient information.
The operating frequency range of 28 Hz to 150 Hz complements applications requiring maximum headroom at the low end of the frequency spectrum.
The 700-HP houses two Meyer Sound-designed and -manufactured back-vented, long-excursion, 18-inch cone drivers. An integral two-channel class AB/H amplifier with complementary MOSFET output stages supplies total peak power of 2250 watts (1125 watts per channel), with enormous headroom to accommodate the most extreme demands with ease.
MJF-212A : High-Power Stage Monitor
The Meyer Sound MJF-212A is a self-powered stage monitor loudspeaker designed to meet critical requirements in professional applications. Exhibiting flat amplitude and phase responses, full-range bandwidth, and exceptional impulse response, the MJF-212A far exceeds the capabilities of conventional stage monitors while offering the simplicity of setup and operation provided by self-powered systems..
Galileo Loudspeaker management systems
Galileo 616's audio I/O features six analog inputs on balanced XLR connectors feeding state-of-the-art A/D converters operating at 24-bit resolution, 96 kHz sample rate. Three of the inputs can be individually switched to operate as standard stereo AES/EBU digital audio inputs, accepting signals at sample rates up to 96 kHz. Since all internal processing is performed at 96 kHz, 32-bit vector floating point, any signals entering at lower sample rates are upsampled using state-of-the-art hardware sample rate converters. The six input channels can consist of a combination of analog and digital inputs.

The 16 outputs feature high-resolution 96 kHz, 24-bit D/A converters, and offer the same robust line driving capabilities as those of Meyer Sound's analog line driver products, up to +26 dBu, allowing the Galileo 616 to easily drive Meyer Sound self-powered loudspeakers to full output at all frequencies, even over long lines.
The Galileo 408 loudspeaker management system is an elegant hardware and soft-ware solution for driving and aligning loudspeaker systems.
The system includes the one rack space Galileo 408 processor, with four inputs, eight outputs, a fully digital matrix processor, and shares the same 24-bit, 96 kHz audio quality and 32-bit floating point internal processing as its predecessor, the Galileo 616.